Miss H'HEN NIÊ and Ariel honor the "unfading uniqueness" of modern vietnamese women
"Every Vietnamese woman has her own identity and when they shine with that particular color in the national ao dai, those are the most beautiful, memorable, forever unforgettable moments…" – H 'Hen Nie.
In the role of Ariel's newest brand ambassador, at the Ao Dai exhibition "Successfully Not Fading", Miss Universe Vietnam 2017, Top 5 Miss Universe World 2018 H'Hen Nie continued. shining proudly in a colorful ao dai in the exhibition "Unfading Colors" organized by Ariel brand at the Ao Dai Museum in Ho Chi Minh City. H'Hen Niê, actor/director Hong Anh, Writer Phan Y Yen, and Blogger Le Ngoc together honored the spirit of "Sacred Individuality Without Fading" of the modern generation of Vietnamese women.
The exhibition displays the long dresses associated with the interesting stories of representatives of modern generations of women, each with their own unmistakable color, both shining and achieving success in their own careers, while preserving their beauty. keep the values ​​of identity of Vietnam. Their special ao dai in the exhibition also continued to shine, keeping their color fresh thanks to their superior formula of removing stains in just one wash without bleach, keeping their color intact. new Ariel Matic No Bleach fabric color.
HHV H'Hen Nie is the most worthy and powerful representative for the spirit of "Unfading Personal Identity". Ignoring all barriers, non-constructive comments about what is considered the norm of a beauty pageant contestant, H'Hen Niê still confidently shines and continues to reap success thanks to her beauty. confidence, unique identity and perseverance to make progress in life and career. H'Hen Niê has always confidently expressed her own identity to millions of fans in Vietnam and around the world. She is the representative of Ariel's generation of women, always perfecting and aiming for the good things in life.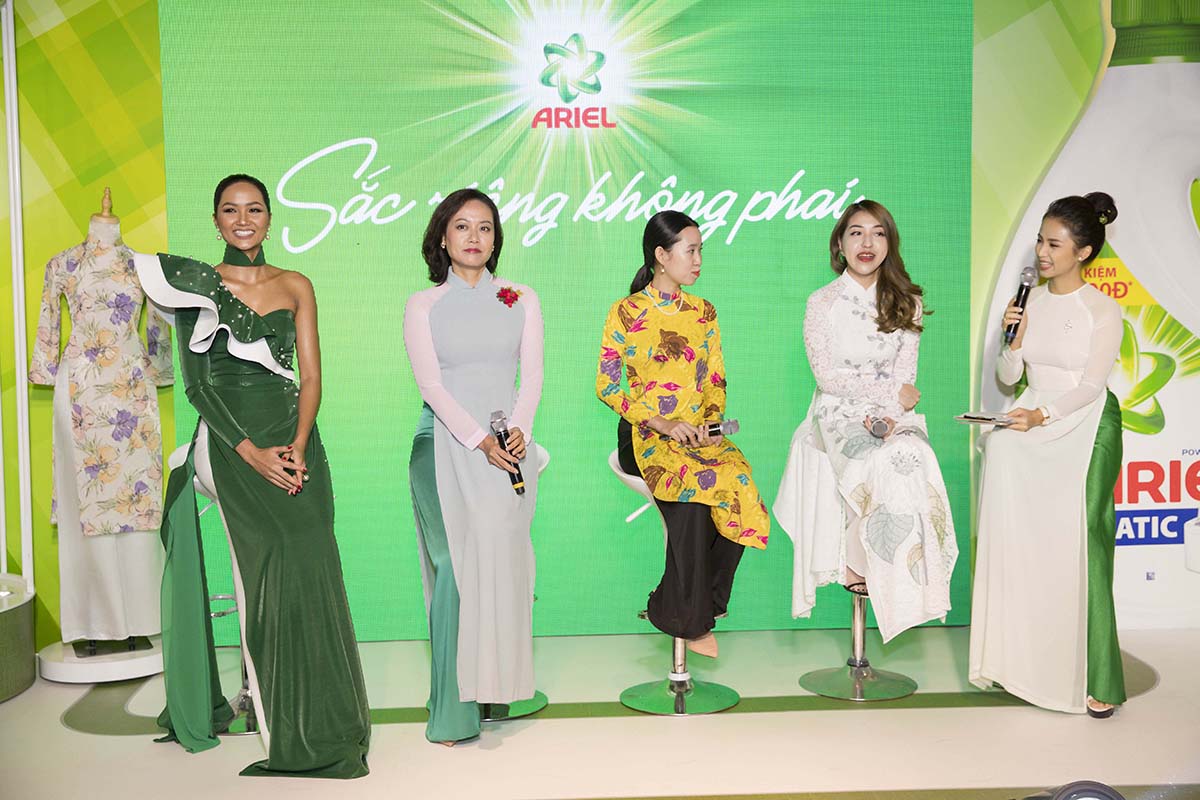 H'Hen Niê shared: "Every Vietnamese woman has her own identity. When they shine with that particular color in the national ao dai, it is the most beautiful, most memorable moment, forever unfading. For H'Hen Niê herself, the most beautiful moment was when H'Hen wore ao dai at the Miss Universe World pageant. The Ao Dai with a white background represents the traditional Vietnamese Ao Dai, featuring Ede materials and motifs - a characteristic of his nation, and H'Hen's own color, which helped H'Hen add. confident to shine". This shirt is being displayed at the exhibition "Specific Not Fading" - the shirt has been praised by friends around the world and published in Vogue Thailand.
Source: ELLE Women Magazine - https://www.elle.vn/diem-tin/h-hen-nie-dai-su-thuong-hieu-ariel